We are the feed bridging solution!
Which of the following concerns resonate with you? What would be the value to your operation if you could eliminate them?
BridgRid® is THE feed bridging solution and comes with a money-back guarantee.
ANIMAL WELFARE
A confined animal feeding operation only works best (and as designed) when it is truly a confined automated feeding operation. Maximum productivity depends upon feeding resources, and the lack of it creates STRESS or worse. Your feeding system can and should be as automated as your ventilation. With the BridgRid smart feeding system, you can be assured that the stress on your animals from feeding resources is eliminated.
BIOSECURITY
Feed bridging is typically a result of the contents of the tank, the weather, or some combination of both. Once feed bridging occurs, it tends to happen frequently and consistently until either or both of these factors change. Risk accumulates proportionally with every trip outside. Maintain reliable feed flow to your animals and reduce illness frequency and spread by using BridgRid feeding solutions.
LABOR ISSUES
What is the labor cost of your operation? Do you have someone available 24/7? What about the liability issues of beating on, climbing over, and sometimes even entering a feed tank? Are your employees dedicated to this particular job, or must they take time away from something else to address it? The BridgRid smart feeding system is better than a dedicated employee and comes at a cost-effective price and a low operation cost.
RATION FLEXIBILITY
Do you consistently choose between the best cost, particle size, ground feed, or pellets because of their ability to flow? What about seasonal considerations and weather in feed formulations? With the BridgRid feed system, you no longer need to worry about feed flow issues. Use the best feed for your livestock or flock regardless of past restrictions due to humidity causing feed bridging in your bins.
PERFORMANCE COSTS
What are the true costs of out-of-feed events? Spring and fall tend to be the worst and also the busiest times of the year for contract growers, as many are involved in crop production. The majority of company-owned facilities can't afford a schedule that allows their caretakers to make it to each site multiple times a day. One of the largest expenditures of any operation is space and time. The BridgRid smart feeding system fills in the gap, so you don't have to.
EQUIPMENT COSTS
Do you find yourself continually beating on expensive feed bins to keep feed flowing? Every dent and ding does nothing to aid flow issues, and purchasing a hopper or cone replacement is expensive (if it is even an option). Drop the hammer and purchase a BridgRid feeding solution that is customized for your operation. We guarantee we can find a solution that will meet your needs.
Remote Bin Slide Operation With RotoSlide™
Purchase separately or combine to remotely automate your operation.
Automatic Bin Slide
The most compact automatic bin slide on the market, the RotoSlide™ only takes a few minutes to install and usually doesn't require an empty bin.
Full stainless steel construction
High torque slide mechanism
Compact size with supported cantilever design
Proportional open/close control
Runs on 24 VDC
Control RotoSlide™ Remotely
Control up to four bins remotely with one RotoDrive. No need to physically access each bin individually to make feed flow changes.
Control RotoSlide™ remotely
Set slide opening from 0–100% (10% increments)
Enable or disable bins
Supports up to 4 bins
Inputs for smart controller override
Power Control Panel
Add the RotoVolt to help manage power flow to your RotoSlides™.
Supports up to 16 RotoSlides™ at one time
85–264 VAC 50/60Hz input
24VDC 100W output
NEMA 4x enclosure
Complete Feeding Solution
Configure a custom smart feeding system for your environment. Our expert sales team will help you find the right solutions for your needs.
BridgRid® grain bin vibrator
RotoSlide™ automatic slide
RotoDrive remote control
RotoVolt
Professional configuration and installation
100% guaranteed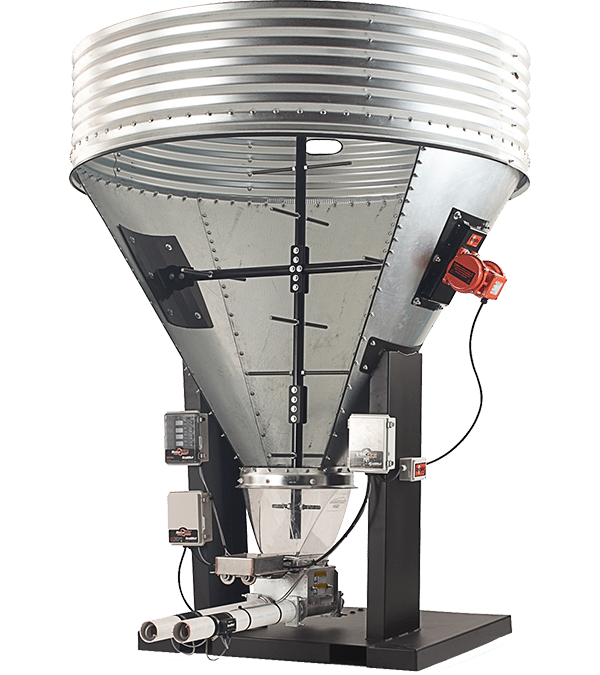 Contact us to learn more about customizing your BridgRid integrated system. Our professional sales and installation teams are ready to help.