THE Feed Bridging Solution
Durable - Upgradable - Simple - Affordable
It's simple. It requires no maintenance. It's affordable.
Most importantly, it really works.
Tell Us About Your Operation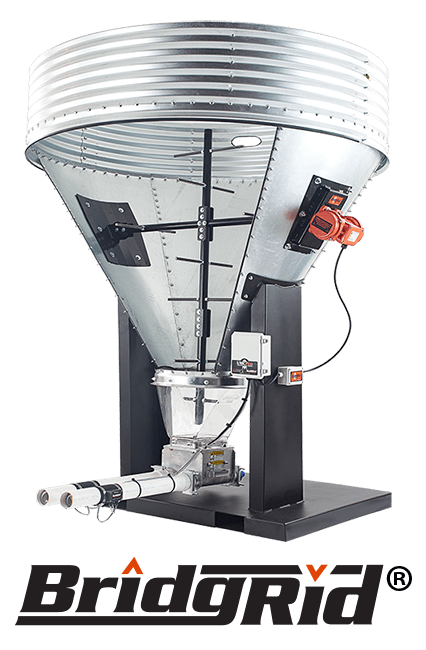 BridgRid® is an internally mounted grid system activated by an externally mounted vibrator. It mounts on the lower portion of nearly any sloped bulk container with a bottom discharge. BridgRid® has been effective in every material it has been used for.
We offer the technology to provide complete 24/7 automation of feeding at confined animal feeding operations (CAFOs) and similar facilities. The flow is monitored in the auger tube. Vibration occurs only when necessary and is sustained only long enough to restore flow whenever bridging occurs. The amount of feed in the tank is recognized and monitored as well, and the system automatically prevents operation on an empty tank.
Every aspect of BridgRid® has been designed and developed by people fully active in the industry today. We understand the issues and have addressed them. We can speak with you knowledgeably about any question or concern you may have. If you can think of it, we have thought of it and made provisions for it.
It's simple. It requires no maintenance. It's affordable. Most importantly, it really works.
What Makes BridgRid® Effective?
Our internal grid system is what sets us apart!
The horizontal bar connects the opposing bin walls and solidifies the cone.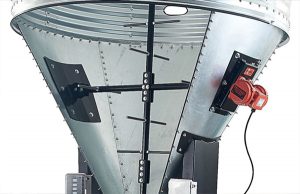 This allows vibration to be transmitted evenly, smoothly, and consistently from the bottom of the unloader to the very top of the lid.
The vertical bar and the "fingers" throughout provide surface area through the center of the structure. Agitating the contents in the center of the lower portion of the bin is extremely effective. That's where the pressure is.
BridgRid® allows a vibrator to be mounted to a tank, utilizing the existing hardware without compromising the integrity of its design and structure.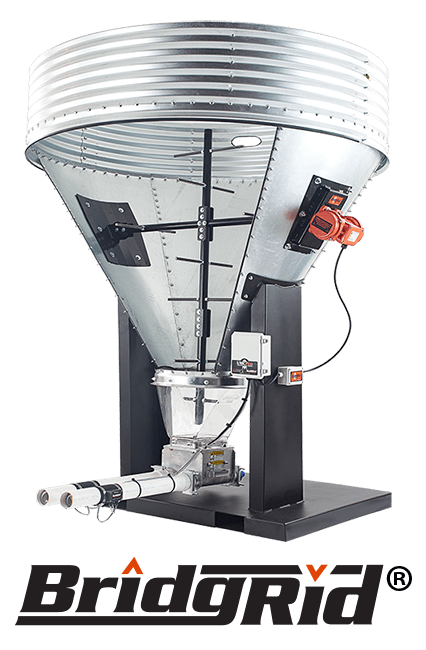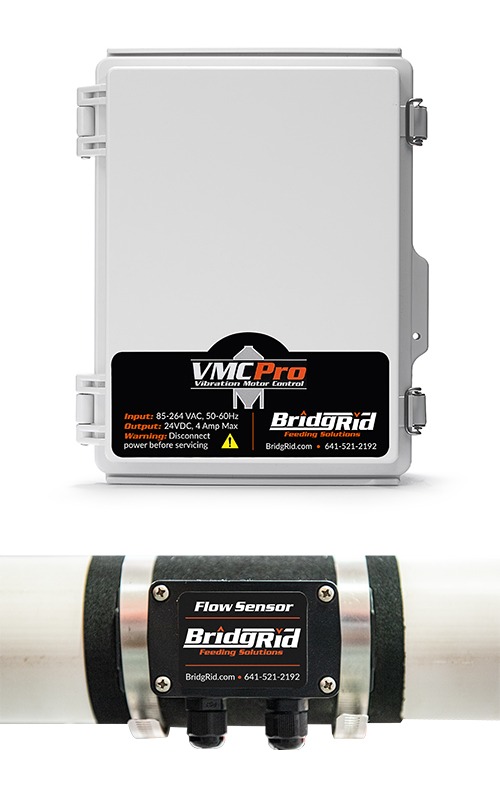 Feed Flow Control & Monitoring
BridgRid electronics provide 24/7 automation. Sensors monitor the feed in the tube when the auger is rotating, and agitation occurs only as necessary.
Each feedline in front of every tank requires a sensor and communicates with the vibration motor control (VMC) box (one per bin). The VMC box mounts on the bin leg and coordinates the sensors. It measures the vibration levels on the tank and self-calibrates, establishing the parameters of both a full and empty bin and setting a scale accordingly. BridgRid systems will not operate on an empty tank. An alarm output is also provided.
BridgRid equipment and software are integrated and intuitive. The system is extremely simple to operate once properly installed. ANYONE can do it.
We all work in an industry that is dependent on fluctuating commodity prices. When it comes to feeding livestock, product flow and time are primary concerns. The BridgRid patented system provides owners and operators with a cost-effective automated system. 
Diverse Applications
BridgRid® has a broad range of applications.
This innovative product has performed well in premix bins at mills, elevators, fisheries, breweries, and multiple industrial applications. It has performed well even with difficult substances—from straight distillers' dried grains (DDGs), soy meal, and wheat midds to ammonium sulfate, salt, and flour.
Our design accommodates traditional, steel, welded, bolted, poly, plastic, and fiberglass bins and tanks. We offer multiple power choices as well, with vibrators for almost any power application to help keep installation simple and economical. Our electrical control systems have been developed to allow a broad application over a wide range of equipment and brand names.
We offer systems and options to accommodate ANY SIZE OPERATION.
Get started for as little as $1,750/bin
Contact Us to Get Started!
Complete the form at the bottom of the page and we will get back to you right away with a custom quote that will fit your needs.
Prefer a phone call or email? No problem. Our contact info is listed below.
Have questions? Check out our FAQ page.
Remote Bin Slide Operation With RotoSlide™
Purchase separately or combine to remotely automate your operation.
Automatic Bin Slide
The most compact automatic bin slide on the market, the RotoSlide™ only takes a few minutes to install and usually doesn't require an empty bin.
Full stainless steel construction
High torque slide mechanism
Compact size with supported cantilever design
Proportional open/close control
Runs on 24 VDC
Control RotoSlide™ Remotely
Control up to four bins remotely with one RotoDrive. No need to physically access each bin individually to make feed flow changes.
Control RotoSlide™ remotely
Set slide opening from 0–100% (10% increments)
Enable or disable bins
Supports up to 4 bins
Inputs for smart controller override
Power Control Panel
Add the RotoVolt to help manage power flow to your RotoSlides™.
Supports up to 16 RotoSlides™ at one time
85–264 VAC 50/60Hz input
24VDC 100W output
NEMA 4x enclosure
Complete Feeding Solution
Configure a custom smart feeding system for your environment. Our expert sales team will help you find the right solutions for your needs.
BridgRid® grain bin vibrator
RotoSlide™ automatic slide
RotoDrive remote control
RotoVolt
Professional configuration and installation
100% guaranteed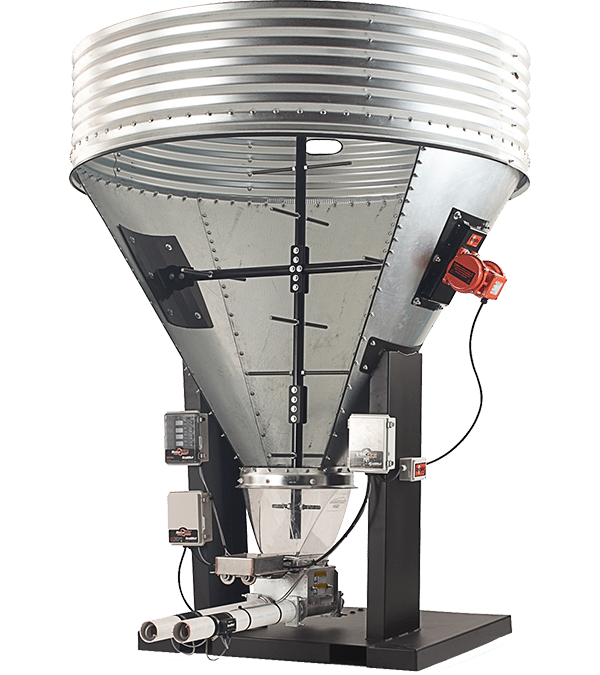 Contact us to learn more about customizing your BridgRid integrated system. Our professional sales and installation teams are ready to help.