Frequently Asked Questions
Does the BridgRid equipment inside the bin spin?
No. BridgRid equipment uses an externally mounted rotor to activate an internal grid system to transmit vibrations evenly and consistently throughout the feed and bin structure. There are no spinning parts involved in the process. This is a completely external system that eliminates feed bridging and enhances feed flow.
Will the BridgRid system cause feed packing in my feed bins?
No. BridgRid's automated vibrations keeps feed flowing 24/7. There's no more feed packing or feed bridges after you've installed BridgRid equipment on your feed bins.
Will BridgRid equipment damage my feed bins?
No. When properly installed and used as intended, BridgRid equipment will not damage your feed bins.
Will a hole need to be cut in the feed bin during installation?
No. The BridgRid components are passed through the bottom discharge. Feed bins must be empty during installation.
Check out our easy installation video:
Will the BridgRid system fit my tank?
With few exceptions, the BridgRid system fits all bulk bins that are 6'–15′ in diameter, regardless of slope, holding up to 50 tons with a bottom discharge. The BridgRid system works with various grain bin materials, including steel, welded, bolted, plastic, poly, and fiberglass tanks.
What is the BridgRid guarantee policy?
We guarantee the BridgRid system will work. If it does not perform as advertised, we will reclaim the equipment and offer a full refund. We offer a two-year warranty from the date of installation on parts and a one-year warranty on service.
Remote Bin Slide Operation With RotoSlide™
Purchase separately or combine to remotely automate your operation.
Automatic Bin Slide
The most compact automatic bin slide on the market, the RotoSlide™ only takes a few minutes to install and usually doesn't require an empty bin.
Full stainless steel construction
High torque slide mechanism
Compact size with supported cantilever design
Proportional open/close control
Runs on 24 VDC
Control RotoSlide™ Remotely
Control up to four bins remotely with one RotoDrive. No need to physically access each bin individually to make feed flow changes.
Control RotoSlide™ remotely
Set slide opening from 0–100% (10% increments)
Enable or disable bins
Supports up to 4 bins
Inputs for smart controller override
Power Control Panel
Add the RotoVolt to help manage power flow to your RotoSlides™.
Supports up to 16 RotoSlides™ at one time
85–264 VAC 50/60Hz input
24VDC 100W output
NEMA 4x enclosure
Complete Feeding Solution
Configure a custom smart feeding system for your environment. Our expert sales team will help you find the right solutions for your needs.
BridgRid® grain bin vibrator
RotoSlide™ automatic slide
RotoDrive remote control
RotoVolt
Professional configuration and installation
100% guaranteed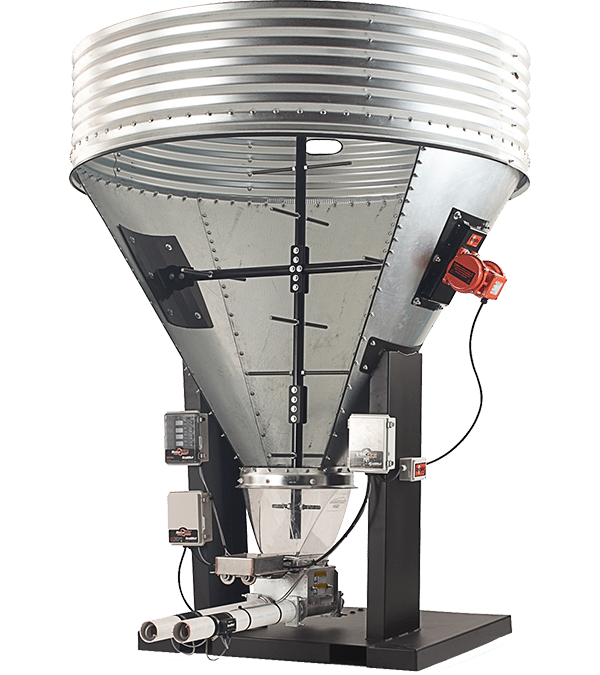 Contact us to learn more about customizing your BridgRid integrated system. Our professional sales and installation teams are ready to help.